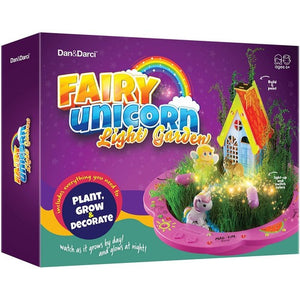 Craft a magical world:
Assemble, design, plant, and grow this enchanted unicorn fairy garden. Let your child express their creativity and design with their personal light-up fairy garden. Watch as it grows by day and its magical glow at night with the innovative LED projecting lights. Includes easy step-by-step instructions so that every child can follow along easily.
 
Grows by day, glows at night:
On the fairy plate are built-in innovative LED light that transforms the experience into something magical. At night, just hit the small switch to turn on the light and watch how your garden turns into a gorgeous illuminated tabletop garden. You have to see it to believe it! Choose from several color options, or let the color change automatically. Powered by an included Micro-USB cable.
 
Kit includes:
Light-up Garden Pot (11" dia), Vermiculite soil, Wheatgrass & Chia seeds, Blue and White Rocks, Cat Figure, Fairy Figurine, Unicorn, 5-Color Paint Tubes, Sticky Gems, Transfer Stickers, Paint Palette, Paintbrushes, Wooden House Assembly Kit, Trees, Watering Bottle, Micro-USB Cable, and Beautifully illustrated easy-to-follow instruction Booklet.
 
A fun and educational gift for all ages:
It's not often that a fun project can be educational, but this fairy garden kit achieves both! It fascinates children as soon as they pull it out of the box and teaches them the lifecycle of plants and botany. With the freedom to layer the rocks, fairy, light directions, and miniatures as they please, every child is guaranteed to have a blast.